My introduction to the art of Rembrandt came indirectly, through my friend Fred Rogers. In the fall of 1995, I traveled to Pittsburgh to interview the children's television icon for a newspaper story, and in one of our early conversations, Fred mentioned that his favorite author was Henri Nouwen, a Dutch Catholic priest.
Henri, as I would soon learn, was one of the world's most beloved spiritual writers with recurring themes of grace, healing and redemption in a world of pervasive suffering. After Fred's tip, I found The Return of the Prodigal Son, Henri's book that was a long meditation on the monumental Rembrandt painting of the same name.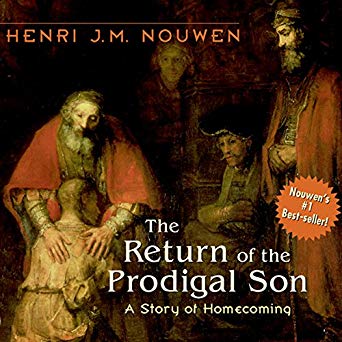 Henri had first been captivated by a print of the masterpiece, which led to his 1986 pilgrimage to the State Hermitage Museum in what was then the Soviet Union. He sat alone for hours in front of the painting—Rembrandt's dramatic depiction of a father's welcome and forgiveness for a wayward son.
"And so there I was; facing the painting that had been on my mind and in my heart for nearly three years," Henri later wrote. "I was stunned by its majestic beauty. Its size, larger than life; its abundant reds, browns and yellows; its shadowy recesses and bright foreground. But most of all the light-enveloped embrace of the father and son surrounded by four mysterious bystanders, all of this gripped me with an intensity far beyond my anticipation. There had been moments in which I had wondered whether the real painting might disappoint me. The opposite was true. Its grandeur and splendor made everything recede into the background and held me completely captivated."
The Return of the Prodigal Son is a beautiful book and inspired me to read several others written by Henri. But I remember thinking it was somewhat odd that he would invest so much meaning in an art work, that he would delve so deeply into each fine detail, that he would find the experience of it so overwhelming.
I think I understand better now, after becoming somewhat more acquainted myself with great art in recent years. There is indeed a mysterious power in the first-hand experience of a masterpiece, and fortunately for me and people like me, that pleasure, awe and wonder are not reserved for those with advanced degrees in art history.
That, in fact, was a founding principle of the Kimbell Art Museum in Fort Worth, the internationally renowned institution that opened in 1972. When it came to art, the Kimbell's first director, the late Richard Fargo Brown, put as much value in the opinion of a museum janitor as a curator from the Metropolitan Museum in New York.
"He was very much of that mind," Brown's widow, Jane, told me a few years ago. "He both despised and prized the word 'elitism,' saying that if 'elite' means 'special' and that's really all it means, then he was an elitist. But that didn't mean that the janitor couldn't be an elitist, too; the janitor could also recognize that beauty. Rick said that there is a reason that great works have come down through time—that there is an appeal that you don't have to be schooled for.
"He was among the young art historians…[who] really believed that your eye told the truth—you needed no other information."
In the remarkable story of the Kimbell Art Museum, only Kay Fortson and her husband, Ben, have been there from the beginning. Kay was the niece and heir to Kay and Velma Kimbell, the Fort Worth business giant and his wife. Upon his death in 1964, Kay Kimbell left a large personal art collection and a vague but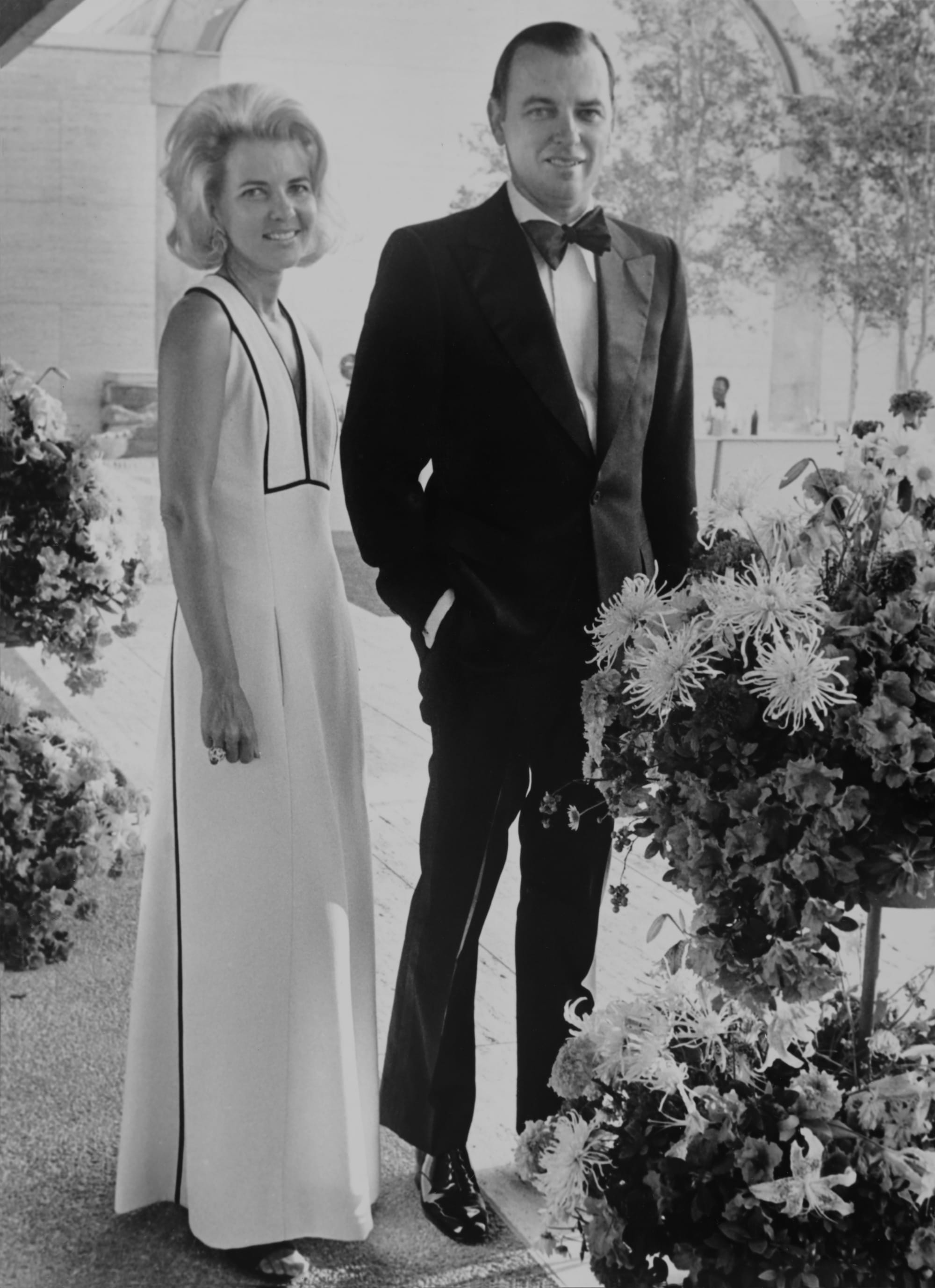 Kay and Ben Fortson at the Kimbell Art Museum opening in 1972imposing mandate to "build a museum of the first class." Velma then immediately contributed her half of the estate to that same end.
More than any two people, as leaders of the Kimbell Art Foundation board for decades, Kay and Ben have been responsible for seeing the dream become an unlikely reality. But in the summer of 1960, four years before Kay Kimbell's death, the coming challenges were impossible for the young couple to imagine. Kay was a young wife and mother, Ben an ambitious oilman who had never set foot inside a museum.
That year, while traveling with another couple to the Olympic games in Rome, the party from Texas made a brief stop in Amsterdam. The wives then coaxed their husbands into visiting the famous Rijkmuseum, home to one of the world's great art collections. Most of the names of the artists there were unrecognizable to Ben.
"That's the day I became familiar with Rembrandt," Ben told me a few years ago.
But it was more than that. As he viewed the collection of Rembrandts, one by one, Ben understood immediately why the work of the Dutch master had endured through the centuries. He might not necessarily have had the vernacular to explain what he felt—Ben just knew.
"I remember walking through and seeing how the Rembrandts just glowed and stuck out," he said. "There was something about the way he painted faces."
He would never forget the experience, particularly with all that was to come. In 1975, Richard Brown acquired a Rembrandt masterpiece for the Kimbell. "Bust of a Young Jew" is a dark painting of a brooding young man in a yarmulke that was finished in 1663, late in the artist's life and the same period that Rembrandt completed "The Return of the Prodigal Son." That was when the artist most sought to explore the human spirit through his work.
Bust of a Young Jew
For Ben Fortson, the Kimbell's Rembrandt remains deeply personal and satisfying. But he has never forgotten the broader meaning of his experience with the Dutch master.
"That's what we're trying to develop here," Ben Fortson said. "We give people the opportunity to come in, sit down, and really look at masterpieces, one at a time. If you can just educate one person like me, who walks in at eighteen or nineteen or twenty, and he sees masterpieces and the experience just sticks...That changes a person's life."
The December weekday afternoon had turned overcast. Dusky natural light filtered into the Kimbell gallery where I was greeted by a Picasso painting. Further down the greens, blues and browns of a Cézanne landscape fairly leapt from the canvas. There was a Cézanne portrait hanging nearby, and a Matisse on the opposite wall and at the end of the room the Kimbell's newest acquisition, a sublime landscape by the French painter Pierre Bonnard.
But on this visit to the Kimbell I had a destination in mind, so I had to tear myself away. A left turn into an adjoining room, past Monet's Weeping Willow to the place where Rembrandt's moody masterpiece hung. The face of the young Jew was half in shadow—curls of beard and forelocks and eyes whose expression have baffled viewers for four centuries. Were they sad? Weary? Did they even betray a subtle mirth? As I wondered again, I was conscious of the beating of my heart and stirrings in the deepest part of my being.
Then I moved closer to the painting, standing where Rembrandt himself once stood. Inspection from that distance revealed that the speck of light at the end of the nose was really a dab of white paint; the wisps of beard and lines in the forehead were brushstrokes. It was humbling, such an intimate acquaintance with the details of his creation.
I heard a voice behind me.
"What do you see?" the middle-aged man asked.
I told him that for all the times I had looked at this picture, I never quite knew. The picture meant something different to me every time I stood before it.
"I sure don't know anything about this stuff," he said.
"But that's the glory of it," I said. "You don't need to be an expert."
As we stood there, I told him the story of young Texas oil man in Amsterdam, in a museum for the first time, understanding the greatness of Rembrandt the moment he encountered it. As Ben Fortson learned that day, you don't need to know, at least not in the scholarly sense.
"Wow," the man said.
He paused while looking at the painting.
"If I can take the time to appreciate these things. I can appreciate God's work, mountains, rivers. But this…"
He smiled, thanked me for my time, and wandered through the quiet gallery toward the next masterpiece.
**
Rembrandt van Rijn, Bust of a Young Jew, 1663 Oil on canvas 25 7/8 x 22 5/8 in. (65.8 x 57.5 cm) AP 1977.04 Kimbell, Art Museum, Fort Worth, Texas
**
Thanks to the new subscribers to the Anything Mentionable blog. If you would like the blog and other book and speaking news delivered each week to your email inbox, visit www.timmadigan.net, scroll down from the home page and subscribe.