"When people come to see the play, I hope they learn what Tim learns." co-writer and director Harry Parker
On Saturday evening, October 28, Circle Theatre in downtown Fort Worth will host the world premiere of I'm Proud of You, the stage play adapted from my memoir of the same name. My life and career is indeed about to take a dreamlike turn.
One person, more than any other, is responsible for that. He is Harry Parker, the widely revered and accomplished director of more than 150 plays, and a longtime administrator and professor in the theater department at TCU. Harry contacted me about four years ago to say that he thought I'm Proud of You, the story of my friendship with television's Fred Rogers, might be a good fit for the stage.
He and I went on to collaborate on the script and numerous revisions later, our words are about to come to life, thanks to Tim Long, the executive director at Circle who also deeply believes in this story; Ashley H. White, the theater's creative director, and thanks to a remarkable four-person cast. Harry will direct.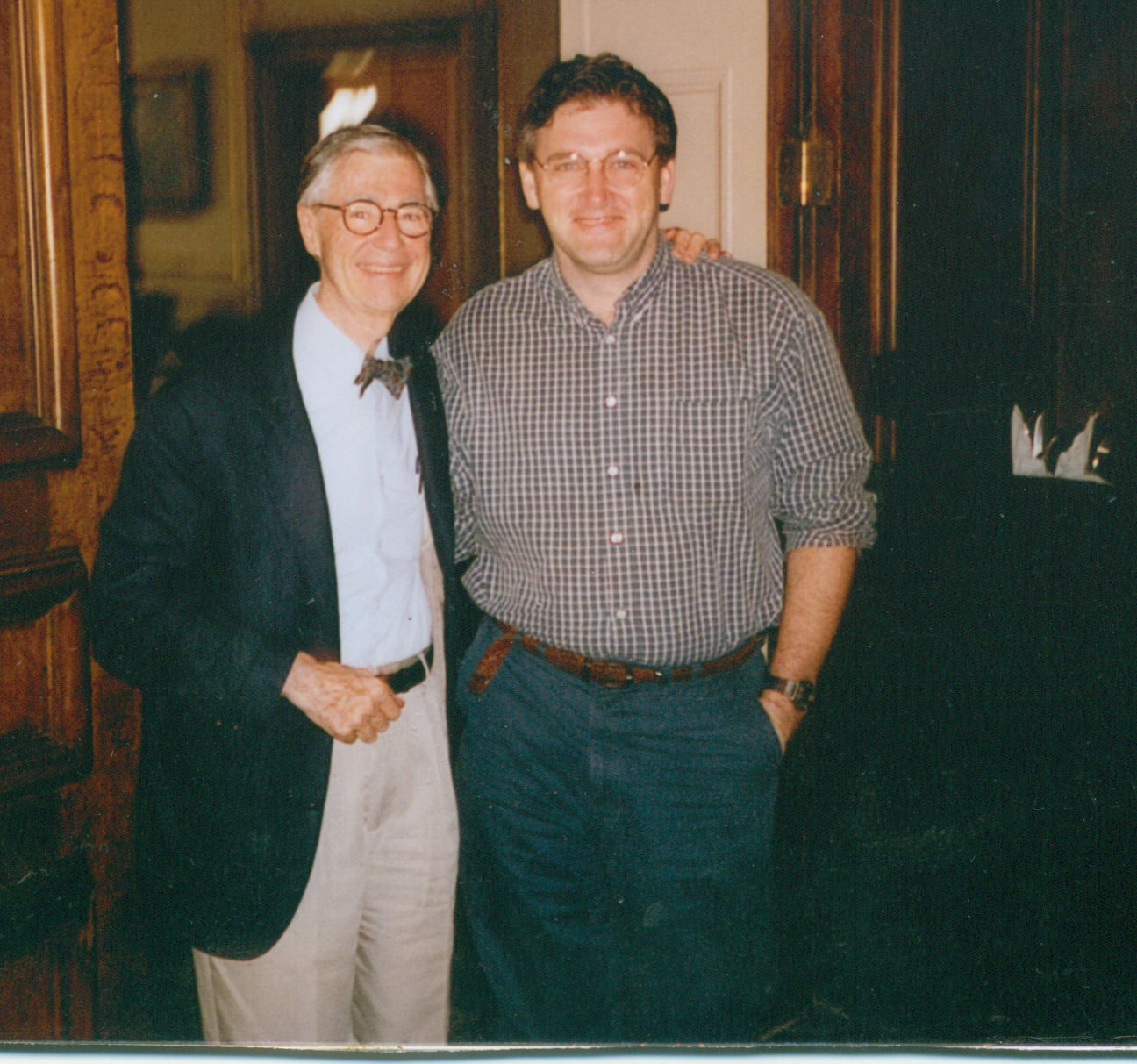 With Fred Rogers in the late 1990s
Some background for those who haven't read the book. I met Fred Rogers in the fall of 1995 through a newspaper assignment. He befriended me then, loved and mentored me through a period of deep depression, then bore witness to the remarkable transformation of my brother Steve during Steve's journey with lung cancer.
Every few months over the last few years, Harry and I have met at Joes Pizza, Pasta and Subs in Fort Worth to compare notes. Last week, as rehearsals approached, we did so again. Here is our conversation, edited for length and clarity.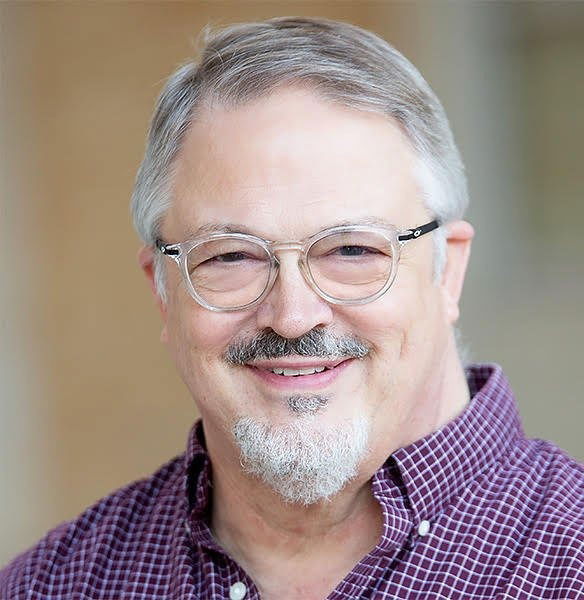 Harry Parker
Tim Madigan: I'm not sure there has ever been a human being who has loved live theater more than you. Speak to that if you would.
Harry Parker: I think it's one of the greatest human inventions. I love all the arts. Who doesn't love music and painting and literature. But live theater is the art form where we can make the world better the fastest. I was 14 when I found this and knew this was how I wanted to spend my life.
If you can get a group of people to show up on the right date, at the right time, at the right place, get them to turn off their phones for a couple of hours, and then you take the lights down. Now we're back in prehistoric times around the campfire telling the story. There's nothing like telling the story. As a writer, you know the power of stories to reach into our guts. We all respond to human stories. We're all in the same place. It's a communal experience. It's very ritualistic. It's very much like going to church.
TM: Beautifully put. That said, why did you feel the book, I'm Proud of You, might work in that world?
HP: When I read the book, it seemed to me to be a linear story. And it was dramatic. There was conflict. There were highs and lows. And it was about relationships. Those are all things that I like most about the theater. Plays are about relationships. The book's focus is intimate. The focus is on the people and on the relationships. The book also peeled away Fred's celebrity. Your relationship with him was not very much about television. It wasn't about his celebrity. It quickly became a friendship and I think Fred was the instigator of that. That was fascinating to me.
So when I read it I thought, "this is a story that has all the components." Then it unfolded into the tragedy in your family's life with Steve's illness, how you all made those connections about what is important in life, what's valuable in life. Steve was experiencing that kind of epiphany, about the importance of the cardinal singing in the back yard. And the same thing was happening to you.
TM: Indeed it was. But taking it from words on a page to the stage was not easy. Neither one of us have adapted a book for the stage. What was that experience like for you?
HP: I didn't know how hard it would be to get started. After my first pass you said to me, "You put everything from the book into the script. Now write a play." That's what you said to me. And you were a hundred percent right. I was a little reverential about the book. That first draft I was afraid of offending you. Thank goodness, I'm no longer reverential about you. (He laughs) I think it's a much better relationship. We've made the tough decisions. We can't have everything in the play or it would be three hours long.
TM: The story is so human, vulnerable and emotional, that I've always felt that the roles required a certain kind of person. You've found them. Tell me more about that.
HP: Well, I agree with you. These roles do call for a certain kind of person, and on top of that, I know how good these people are as actors. I know how they can hold the stage. (Veteran Fort Worth actor Richie Haratine plays the role of Tim. Randy Pearlman, one of the most respected and sought after actors in the North Texas, plays Fred.) The personalities and characteristics of Richie and Randy seemed to me to be close to the Tim character in our play, and to the Fred character.
Randy is actually best known for broad comedy. He's excellent at it. And he's a great soul. Everyone who works with him feels that way about him, and then, to be as good as he is. And I think Richie gets the Tim character. I've never directed Richie before, but we know each other and we trust each other. When I called him and asked him to do this, he didn't say yes. He said, "Let me read it." I told him it was a huge role. (Richie's character has more than half of the lines in the play.) I told him that it was a big responsibility. He said he appreciated that I told him that. When he read it, he was very excited.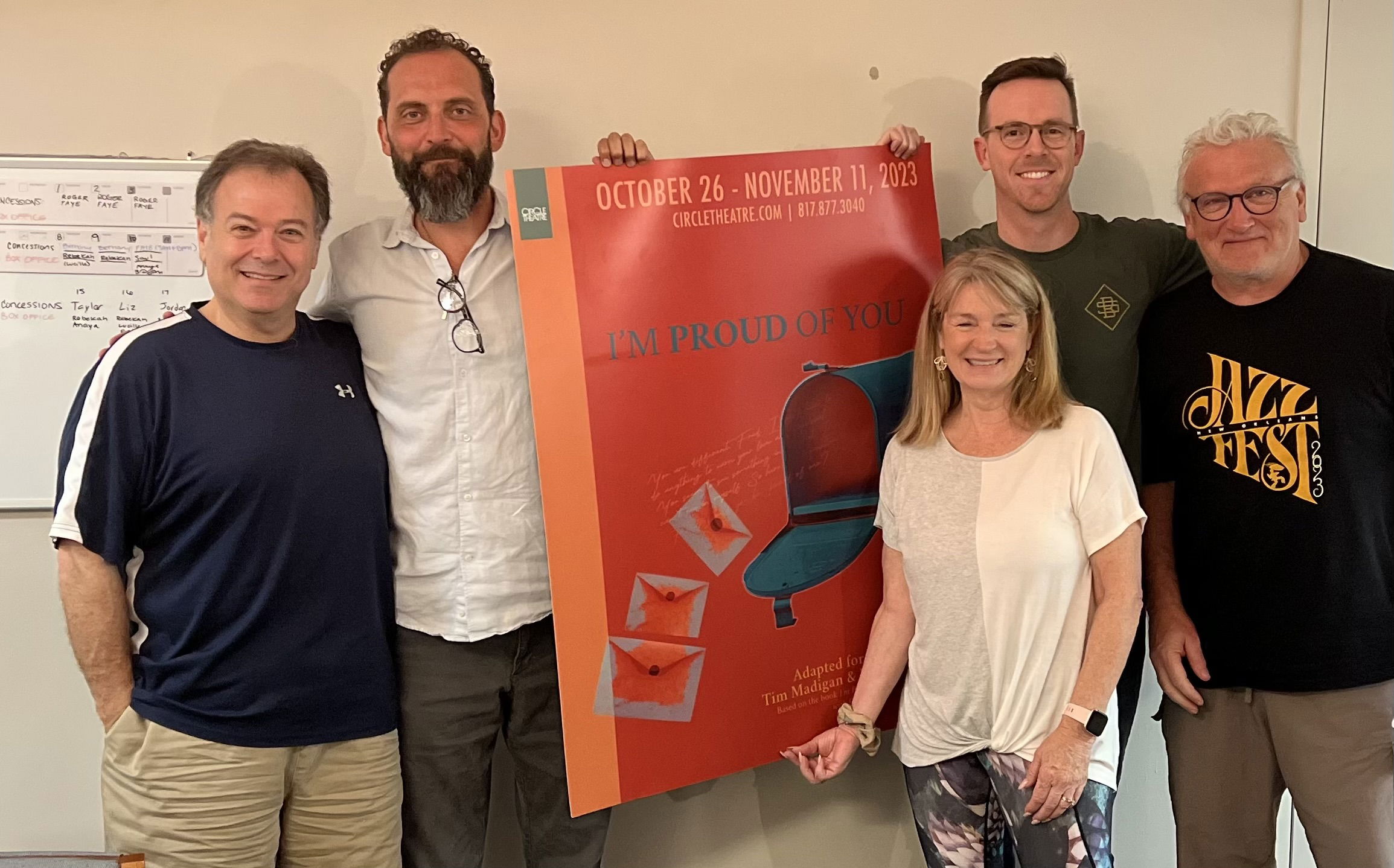 With the I'm Proud of You cast. From left: Randy Pearlman, Richie Haratine, Lisa Durham Fairchild and Gabriel Whitehurst.
Lisa (Lisa Durham Fairchild, who plays multiple characters, including Joanne Rogers and Tim's mother) can do everything. She is just a pro. I always love to be in the same room with her. She's always prepared. Every time she does a scene, even in our readings, she has an idea. I don't have to direct her.
Gabe (Gabriel Whitehurst, who plays Tim's brother, Steve; Tim's father and Tim's young son, among other character) is a former student of mine, so I know him well. I met him when he was 24 or 25 and he's always seemed like a grown up. He's kind of an old soul.
TM: He does a remarkable job playing very different and important roles. Lisa is the same way. It's been a revelation watching them all work, and such an honor watching those actors interpret my life. Kind of surreal, to be truthful. My last question is this. Based on what you know so far about the play, what do you hope the audience takes away from I'm Proud of You?
HP: This is kind of a tall order, but let me let me answer this way. When I first read your book, I think I knew why people responded to it the way they have. I think the reader had the experience of stepping into the shoes of the character, Tim. People felt empathy for all the big issues Tim was going through because most everyone does at one time or another. And then Fred worked on us, all of us through Tim. Fred helped us see what was really important in the world and what wasn't. He helped us see the healing power of presence and true friendship. So when people come to see the play, I hope they learn what Tim learns. I think it's a teaching piece. It's a piece about a character who is recalibrating what he thinks is important…
TM: With the assistance of Fred.
HP: Absolutely. With the assistance of Fred.
Circle Theatre tickets can be purchased at this link: https://bit.ly/3PIaBQq
To purchase I'm Proud of You or any of Tim's books, visit: https://amzn.to/3tVoAH0