Vin Scully and I had a nice conversation one morning in the spring of 2019.

"I'm carrying a little cup of coffee and walking down to my office and we'll be able to chat for a little while," he said.

That voice.

It was a little surreal to hear it coming through my cell phone. Growing up in Minnesota, I couldn't get Dodger games on the radio, but there Vin was on the Major League Baseball Game of the Week on NBC or calling yet another World Series. He was a near perfect broadcaster and always seemed a thoroughly decent human being.

Vin had spent 67 years as the voice of the Dodgers, first in Brooklyn, then in Los Angeles. He, his voice and demeanor, linked generations. He had been 88 at the time of his retirement, just three years before Vin and I talked that morning.

"I'm sitting quietly right now, and among other things watching a hoard of butterflies," he told me late in our 20-minute conversation. "God knows where they come from. But that's my big project right now, to see if there are any monarchs among so many. Not a bad time. Not at all."

So yes, Vin Scully was indeed the thoroughly decent person he seemed to be on television and on the radio. It just so happened that he had also been blessed with that golden voice and a gift for describing sports history as that history happened.

One of those great moments came in the autumn of 1988, when Kirk Gibson limped to the plate on two bad legs to pinch hit in the first game of the World Series. The Dodgers had been overachievers all year and were heavy underdogs against the American League champion, the Oakland A's. Gibson leaned over the plate and found Dennis Eckersley's slider, lining it into the right field stands for the game-winning home run.

"In a year that has been so improbable, the impossible has happened," Vin Scully told the world that night.

Fred Claire was the general manager of that Dodgers team what would go on to win the World Championship. My interview with Vin was part of my research for a book about Fred's own remarkable life and career.

Fred had been the architect of that Dodgers team. Then, decades later, came an even more improbable victory, when Fred conquered a dire diagnosis of metastatic skin cancer. He and his wife, Sheryl, would go on to devote their years to praising the medical facility where the healing had occurred, City of Hope in Southern California, and working tirelessly to support cancer victims, survivors and their families.

Vin talked at length about Fred that morning a few years ago. The two had been friends for a half century. Toward the end of our conversation, Vin summoned his eloquence once more, offering what would be the benediction for our book, Extra Innings: Fred Claire's Journey to City of Hope and Finding a World Championship Team.

"He would not buckle an inch," Vin said of Fred and his battle with cancer. "He met it head on. And with all the baseball things behind him, what he's done with his career, living through all that physical and mental pain, that's his greatest accomplishment.

"It was almost as if God said, 'You're not working with the Dodgers, but you can be inspirational to millions of people. That's your job now.' Those who know about him, who come in contact with him, who hear about what he's on the Earth for now, realize that he has been given a job a heck of a lot more important and bigger in stature than being a general manager of a baseball team."
--
Fred Claire and his wife, Sheryl, are now dear friends of mine. Fred and I talked last Sunday, the day before the Claires attended Vin's memorial service in Los Angeles. Vin's beautiful benediction for our book was on Fred's mind. The eloquent and generous tribute was completely consistent with the man who offered it, Fred said.

"I haven't talked about this in any of the interviews I've done these last few days about Vin," Fred told me. "Two of my most challenging times, Vin was there in a significant way. When I was fired by the Dodgers in 1998, Vin wrote a letter to me that I've never shared beyond Sheryl. He was very supportive with his words related to my career. But his message was that this was all part of the journey and we will continue as friends. Then, when I was hit by cancer, he called me and left a message on my voicemail. That message is still there. And that message will always be there. That was the impact of Vin."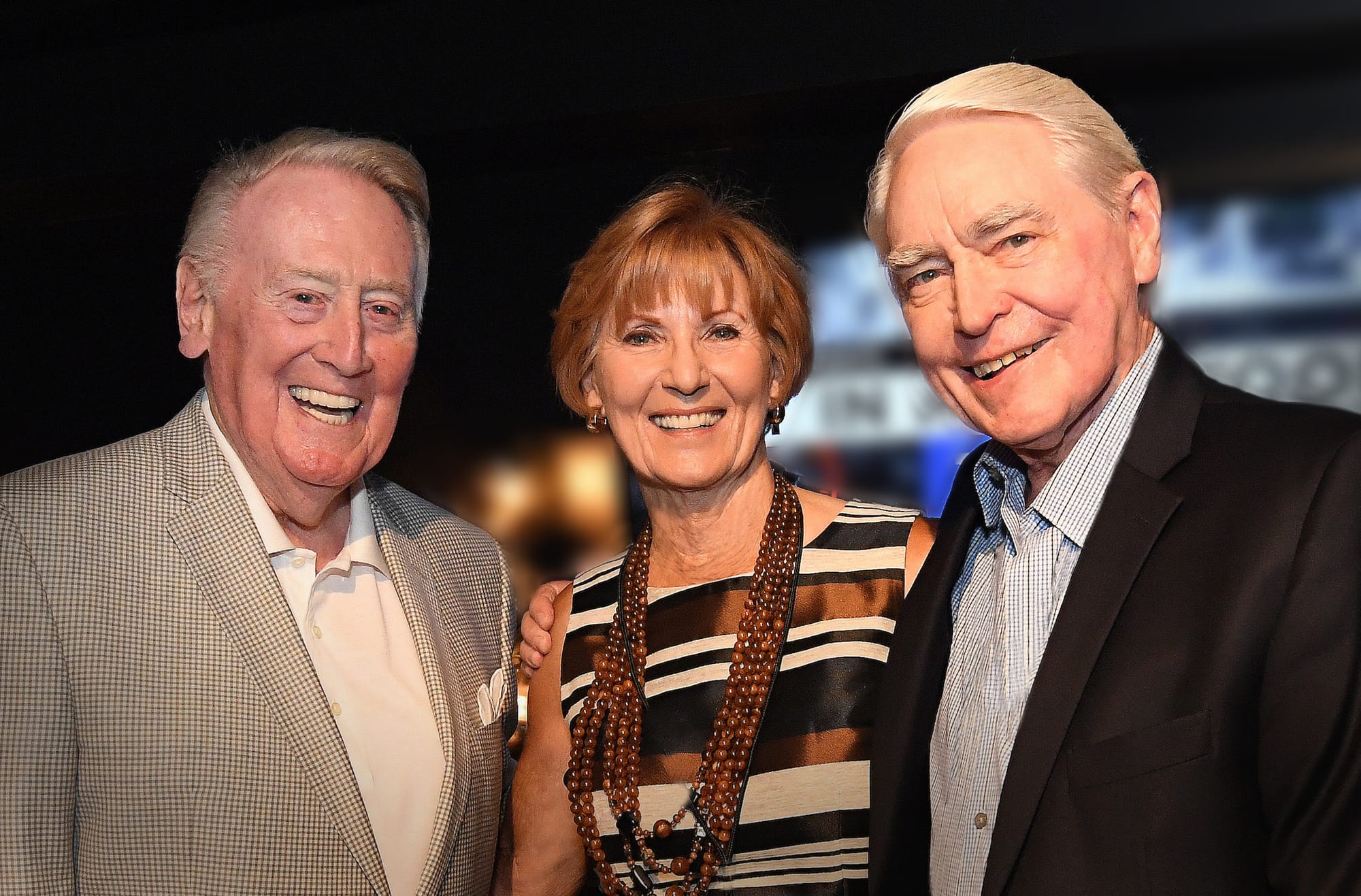 Vin Scully with Sheryl and Fred Claire


Fred and I spoke of the artfulness of great play-by-play announcers like Vin.

"He had that voice. He was blessed by God on that one," Fred said. "But boy, he could call a game and he could break down a game. It's no small thing to be able to find the words to describe a very dramatic moment, such as Kirk Gibson's home run in the World Series, but the great ones always found a way to pull it off.

"He always had the words, because he had the history. That can't be scripted."

Fred particularly remembered the night of April 8, 1974, when Hank Aaron broke Babe Ruth's homerun record. The blast came against the Dodgers and Vin described it.

What a marvelous moment for baseball. What a marvelous moment for Atlanta and the state of Georgia. What a marvelous moment for the country and the world. A black man is getting a standing ovation in the Deep South for breaking the record of an all-time baseball idol.

"You have to be intelligent to do that," Fred said. "You have to be well read. You have to be open. You have to have a God-given gift. I'm not the first to say it, but there is no question that Vin was the greatest story teller in baseball history."

But for all that, Vin's greatest accomplishments had come away from the game. That was the essence of his benediction for my book about Fred. Fred would now return the favor, offering a similar benediction for his old friend.

As we talked last Sunday, Fred read Vin's quote from a special section devoted to the broadcaster in that day's Los Angeles Times.

"The main thing, I want people to remember me as a good man, a good husband, a good father, a good grandfather," Vin said. "That's the most important thing of all."

"That was how he lived his daily life," Fred told me. "That is why everyone related to Vin. It's because we all have that opportunity to achieve what Vin thought was most important in life. We can't have that voice or that knowledge or that timing, but we all still have the opportunity to be those things he most wanted to be."
--
For more information about my books, including The Burning, the Tulsa Race Massacre of 1921; I'm Proud of You: My Friendship With Fred Rogers, Getting Grief Right: Finding Your Story of Love in the Story of Loss (with grief therapist Patrick O'Malley) and Extra Innings: Fred's Claire's Journey to City of Hope and Finding a World Championship Team, visit my Amazon page at this link.