One of Fred Rogers' favorite things was making connections between people, so he would be delighted by recent events at Circle Theatre in downtown Fort Worth. It is there that I have been privileged to observe the cast, crew and theater staff as they prepare for the premiere of I'm Proud of You, the stage play based on my 2006 memoir of the same name. A deep affection and concern for one another has taken root among us. The word family has been used a few times to describe our troupe. As I said, Fred would be delighted.

One of my new friends is Richie Haratine, a veteran and very accomplished actor and director who plays the role of…maybe there is no other way to say it…me.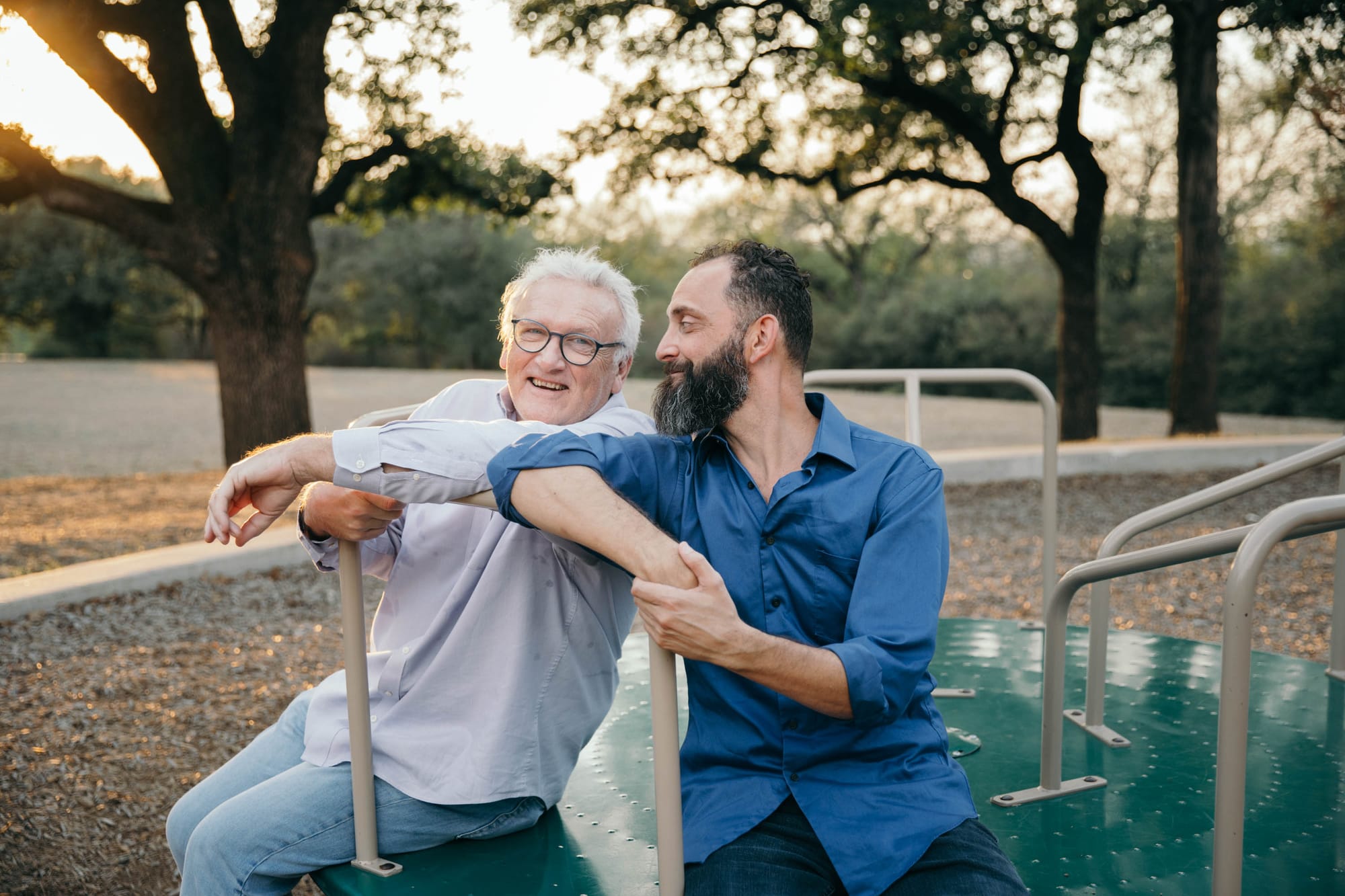 With Richie Haratine at a playground photo shoot (photos by Taylor Staniforth)


Allow me to slip into the third person to describe Richie's character in I'm Proud of You. Tim was a successful but tortured journalist and author who met Fred Rogers, the icon of children's television, through a newspaper assignment in the fall of 1995. An unlikely but undeniably close friendship between the two men began then and continued until Fred's death from stomach cancer in 2003.

In those years, Fred mentored Tim through periods of deep depression and despair (Fred called them Tim's furies,) and inspired great healing in Tim's relationship with his father. In fact, the title of the book derives from Tim's (ultimately erroneous) belief that his father would never be proud of him. In the story, (and in real life) Tim asks Fred if he would be proud of him, instead.

I first met Richie on a warm spring evening in 2022, at the first reading of the I'm Proud of You script. It took place in an empty theater on the TCU campus and had been arranged by Harry Parker, our play's director and my co-writer. It was a deeply emotional night for me, listening to Richie and the three other wonderful actors that Harry had recruited to give voice to our script. Now, in less than three weeks, Richie and the others—Randy Pearlman as Fred Rogers; Gabriel Whitehurst who plays several characters, including Tim's father and brother; and Lisa Durham Fairchild who plays Joanne Rogers and Tim's mother—will tell my story to much larger audiences at Circle.

Last Saturday after rehearsal, Richie and I sat down on the Circle stage, reflecting on Richie's life as an actor, fathers and sons, and our shared journey of the play.
Here is our conversation, edited for length and clarity.
--
Tim Madigan: You told me that you've been acting since you were 14, growing up in Florida.

Richie Haratine: I was always kind of a flamboyant, fun, outgoing kid. A (family friend) was a big theater guy and he said, "You should audition for something at a local community theater. You're outgoing. You're playful. You're spontaneous, all the qualities that are helpful when you're on stage." Mostly, I was just tickled that he saw something in me that I hadn't tapped into.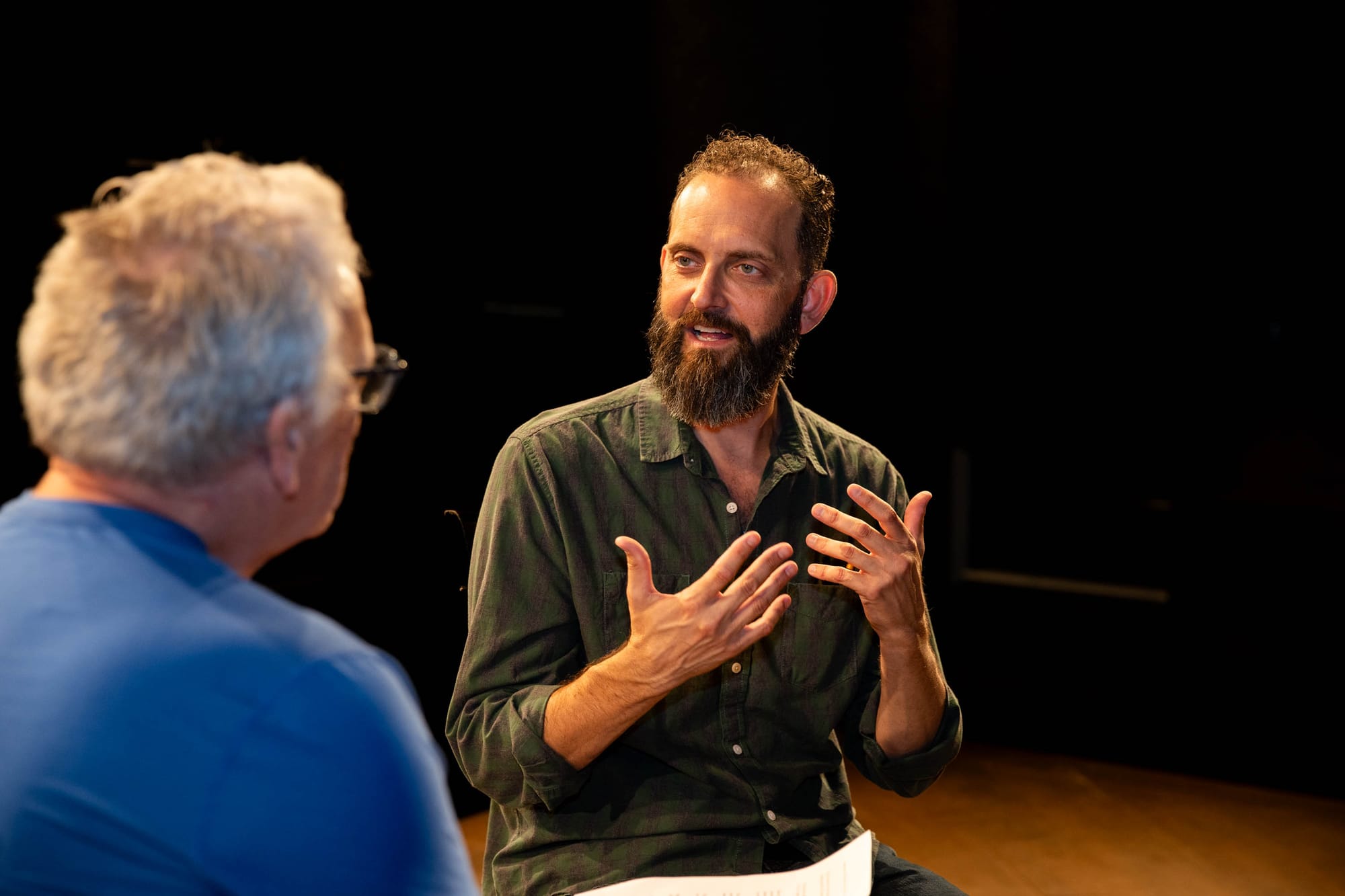 It was Fiddler on the Roof. I got a very minor dancing and singing role, but the whole experience for me, as a 14 year old, was pretty transformative. I enjoyed getting up in front of people and making people laugh, or at least creating a response in people. I was like, "Well, this feels comfortable. It feels like home." In my little-kid mind, I was like, "people are looking at me, and they're paying attention to me, and this feels good."

Then, through the course of that show, the six-week process of rehearsals and performances, I became enamored by the whole thing—the lights, the costumes, the sets and the relationships. It became a family, working together on a project that came together. And then we got to present it. I just kept doing it because it felt comfortable. Even now. I'm 48 and I'm still doing it because I enjoy it.

TM: Harry Parker contacted you about this part in the spring of 2022. What were your first impressions when you read the script?

RH: It was really emotional. I was moved. It was rich and deep and had a lot of things going on, but it was so personal. But when I was reading it I thought, "I can slip into this. I can relate to that. I can connect to that. I can see that." Boom. Boom. Boom. In contrast, if I'm picking up a piece of Shakespeare, there's a lot more labor involved to understand it, a lot more heavy lifting. You're doing big, epic, dramatic, wildly emotional stuff that just goes off the charts where you're murdering someone, and then you're remorseful, and then you're jealous, and then you're in love. This play has those elements in it, but it was more accessible to me. I didn't have to read it, like, five times to get a sense of what it was about.

TM: Do you remember the impact that first reading had on me? I mean, I was a mess. I cried through pretty much the whole thing.

RH: I was a little nervous because I didn't know you and it was a very unique experience. I've never done anything like this. I've never worked on a piece where the author is in the room, and not only the author, but the person who's in the play. So I was very cautious. But I do remember vividly how excited you were, but also how moved you were by the whole thing, the whole experience of just being there and listening to it out loud for the first time like that.

TM: I've often told myself that if nothing else happened beyond that night, it would have been enough. That's how deeply that reading affected me.

RH: You might have mentioned that.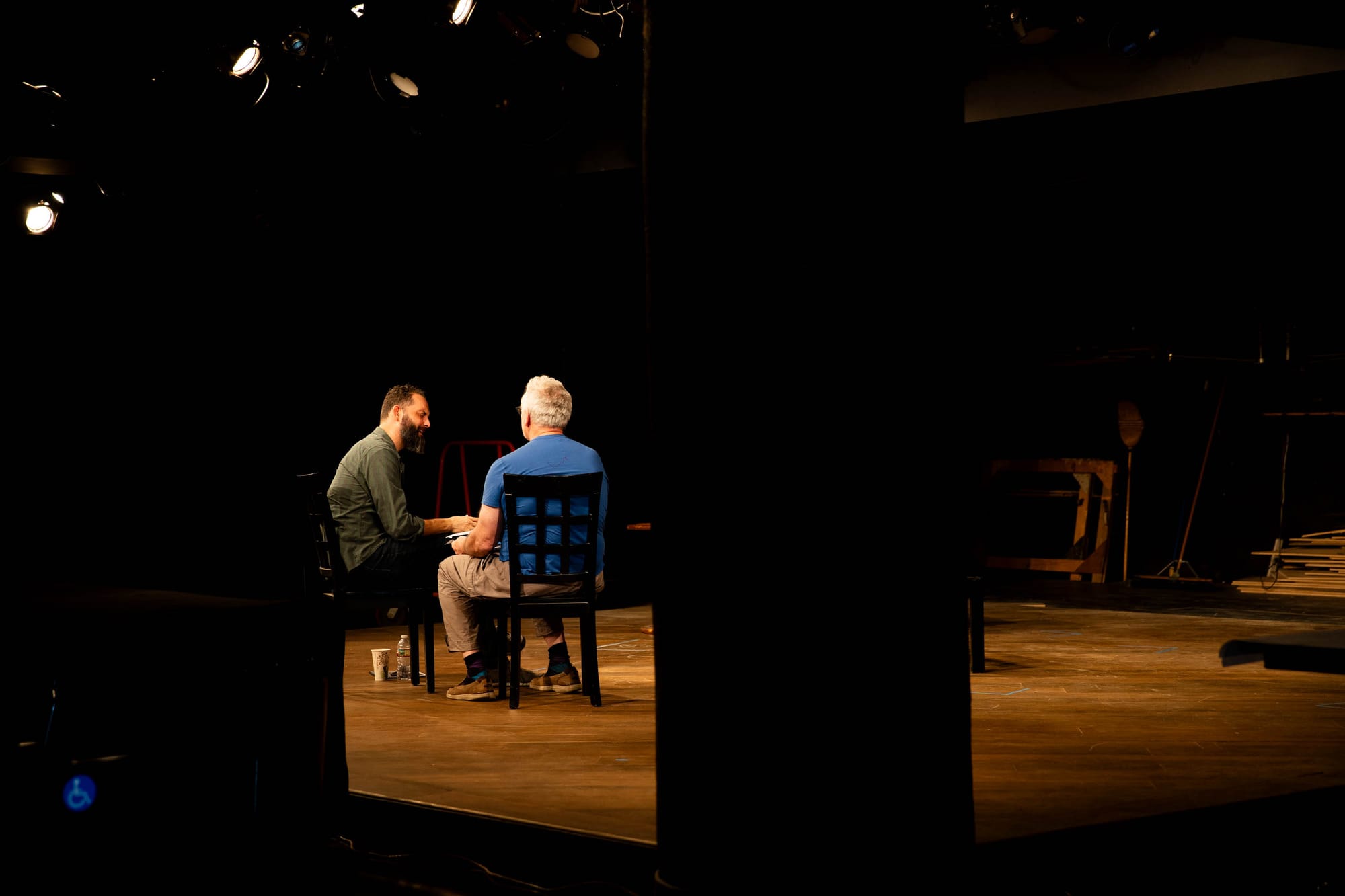 TM: There have been a couple of times during rehearsals of I'm Proud of You, where your own emotions have caught up with you. Afterwards you explained to me that some of the things that the character Tim was going through were things that most people could relate to at some level. Could you speak more about that?

RH: Sure. One of the major ones that spontaneously rose up in me as I was reading was the broken relationship between a father and a son and the desire for it to be mended. I'm not saying that's universal, but certainly I probably know more men my age and younger who have struggled with the relationships with their fathers, more of them than not. I never knew my dad. I never met him so there was a lot of empty space there. You had stuff to work through with your dad, whereas for me that relationship was non-existent. I had a step-father who provided a certain amount of stability. He spent time with me, but the connection was minimal. Where my real dad was concerned, there was nothing there to work on, really, because there wasn't anything.

So the thing that was most impactful, most moving and continues to be from the first reading until now, is the desire to connect to that father, or that father figure in your life. I mean, until the day I die, that's going to be on my heart and on my mind. I couldn't help but pick up on that, especially in those scenes where Tim is asking Fred to be proud of him. Like, who doesn't want their dad to be proud of them?

TM: You've said often that you enjoy the experience of playing a character who's actually sitting in at rehearsal and will be in the audience. Why is that? Why has that been meaningful or even helpful?

RH: I think that it makes it more personal. I'm pretty careful with my relationship to the language, to the story of characters in any play I'm involved in, whether it's by a dead poet or somebody who's living. But being in the room with a guy who wrote it, and who has experienced it, had it be part of his life—it has dialed in and fine-tuned my sensitivity to the material in a way that I've never really been able to do before.

I haven't asked you a ton of questions about yourself. But I think just being in the room with you might help me in the performance. You just being present in the room, actually being here and then sharing from time to time about certain things. Just your voice, your physical presence, it creates a sense of at-home-ness in what I'm doing, more than what I have experienced with other material, knowing that I could ask you anything at any time.

TM: I consider you a friend. I feel close to you and to everybody associated with this, to the extent that I feel like I've given my story to family. That said, what do you think this story about?

RH: Oh, my goodness. I think that there's a line or two in the play about it. It's the impact that one person can have on another person—that relationships matter. The depth and the meaning of those relationships and how they impact you, the fact that they can impact you, and the fact that they do impact you whether you know it or not…It might never have occurred to me that the relationship I had with my elementary school teacher has a great impact on me now. So for me, the story is about not ever taking those for granted.

TM: At the end of your opening speech in I'm Proud of You, you say, "were it not for Fred Rogers. I might not be around today, alive to tell you my story." You and the others are telling my story so beautifully, with such sensitivity and skill. I'm so grateful. I thank you for that.

RH: Thank you. And the feeling's mutual.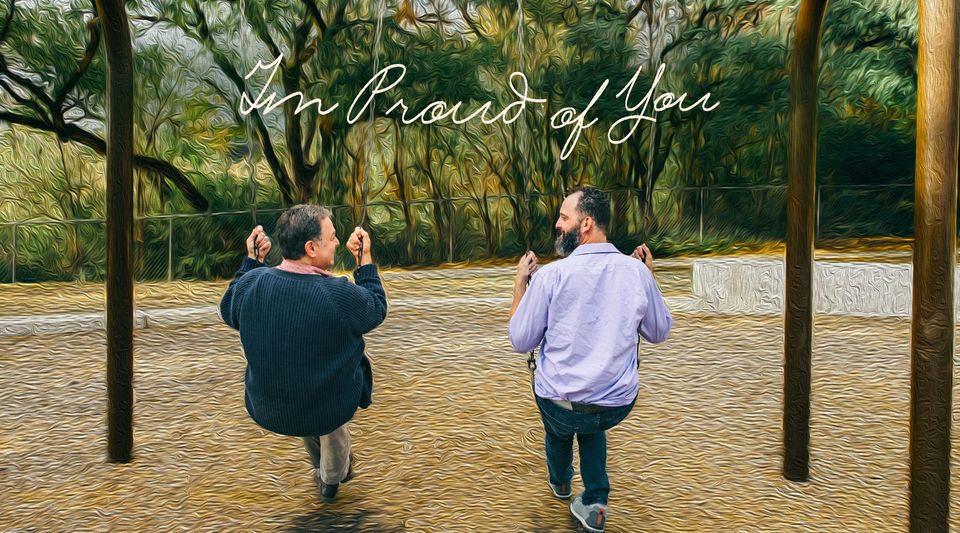 Fred Rogers (Randy Pearlman) and Tim Madigan (Richie Haratine)


--
I'm Proud of You at Circle Theatre in Fort Worth, October 26-November 18. For more information and to purchase tickets, visit this link: https://bit.ly/3toZbZ0

To purchase Tim's memoir, I'm Proud of You, or any of his books, visit: https://amzn.to/3tVoAH0